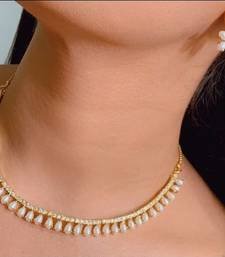 After a year of lockdowns and sombre mood, what are the trends that will shape the jewellery market in India in 2021. One trend the industry pundits have recognised is toward designs that a bit of fun and optimism. There's going to be an emphasis on the playful. We all know that colours can have a profound effect on human emotion, using it to elevate, stimulate and inspire through unusual combinations. So, we might see designers in 2021 looking to a palette of bright colours, with unusual combinations and extravagant juxtaposition of gemstones coming together.
Maybe we'll see a comeback of jewellery as adornment, for example as more people are able to go back to socializing. They'll want to make a bit of a splash as the social scene opens back up, with big bold, dramatic jewellery pieces.

Floral jewellery

One of the other trends emerging, particularly in the weddings market, is towards floral jewellery. While floral inspired jewellery itself is nothing new, with upscale modern designing and detailing, it looks set to be the become the biggest bridal trend of the year. From mehendi designs to outfits and jewellery, floral motifs are being used not just for their beauty, but also because these motifs symbolise good fortune, eternity and purity. Floral rings, necklaces, earrings and bracelets are set to lead the trends this year.
Give Us Pearl power

Pearls have been cherished by all jewellery lovers over the centuries. They have always been seen as a sign of status and wealth. But they tended to be worn by older women, often by those who wanted to put themselves across classy and elegant. But these days anyone can wear pearls and combine them however they want! Pearls have never really gone out of fashion, but it looks like this year pearls are here to dominate the jewellery stores and the online jewellery market.


Very long earrings
Another trend could see the return of super-long, shoulder-grazing earrings. Once considered a little over-the-top, these earrings are so long they can either touch the shoulder, or even go past your shoulders. Typically, they give a super funky, playful funky feel, but they can also be elegant looking for those who are seeking a stylish and trendy look.

So long earrings look set to be a hit, and New Year brides could be seen developing this unusual trend by donning long polki and diamond earrings.

It's Looking Like Big rings
2020 saw same massive changes to ways of living. And looking forward, whether the trends towards working from home, continues or whether we simply go back to the workplace full-time, things are set to change. This mean a fashion that's wearable and easy. Some popular jewellers have hinted that this could mean a focus on big cocktail rings as they are super-casual and easy to wear.

Putting aside the engagement ring, a ring is something which people buy to suit many different occasions. So, big cocktail ring or any oversized ring that work in a number of ways and on different occasions for both personal and professional gatherings is going to be really useful.

Traditional statement jewellery

One further trend to lookout for in 2021 is the return of traditional elements in jewellery. Alongside all the new trends taking over people's attention, many will also want to make sure that they don't forget their traditional style and preferences. This year, the conventional statements are making a big statement. Traditional statement jewellery reminds jewellery lovers of the rich culture and will make them look their best with their ethnicity shining through. Pairing heritage jewellery items with heavy ethnic dresses could be a real hit of the festive scene.
Equally women who are looking for something trendy yet traditional might favour minimal chokers, as a statement accessory that can add a mix of glamour and vintage charm to the traditional look without going over the top.
Chain link jewellery may also get top billing this year. Chain link necklaces can be worn for a huge range of occasions, as they are both classy and straightforward. They can be worn with almost any outfit, whether simple or smart. Both men and women can match them with their outfits, anywhere, anytime.